Premium Hangzhou Chrysanthemum 8oz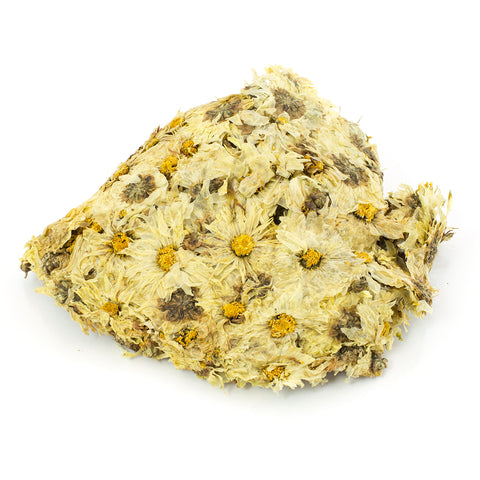 Premium Hangzhou Chrysanthemum 8oz
Origin: Zhejiang, China
Product Weight: 8 oz
Package Type: Bag
In stock
Description:
精选 桐乡原产 杭白菊 (8oz/包)
桐乡是杭白菊原产地,被誉为"中国杭白菊之乡",有300多年的种植历史,因其特殊的自然地理条件和不断改进的生产加工工艺,杭白菊在色香味形等多方面均明显优于其他地方同类商品菊,古时曾为贡品。味道清醇甘美,具有散风清热、平肝明目等功效。
性味
味甘;苦;性微寒
经脉
归肺经;肝经
主治
疏风,清热,明目,解毒。治头痛,眩晕,目赤,心胸烦热,疔疮,肿毒。
用法用量
内服:煎汤,10~15g;或入丸、散;或泡茶。
外用:适量,煎水洗;或捣敷。
注意禁忌
《本草汇言》:气虚胃寒,食少泄泻之病,宜少用之。凡阳虚或头痛而恶寒者均忌用。
【食疗方】
1.鸡蛋菊花汤
鸡蛋1个,菊花5克,藕汁适量,陈醋少许。 鸡蛋液与菊花、藕汁、陈醋调匀后,隔水蒸炖熟后即成,每日1次。
功效:具有止血活血,消肿止痛。适用于食管癌咳嗽加重、呕吐明显者。
2.红花桑叶菊花汤
红花3克,桑叶、菊花各10克。将桑叶、菊花、红花共置杯中,开水冲泡,盖焖片刻,先熏患眼,薰后温服。每日2次,连用3日。
功效:散热消肿,止痛明目。主治急性传染性结膜炎等症。
3.菊花甘草汤
白菊花(或菊花)120克,甘草12克。加水煎汤,分3~4次服。
功效:清热解毒。主治疔疮肿痛。  
Premium Hangzhou Chrysanthemum (8 oz/Bag)
Chrysanthemum flowers have been grown in China as flowering herbs since the 15th century. They are harvested in the fall when they are in full bloom. When brewed as a beverage, Chrysanthemums produce honey-sweet scents and a soothing wintergreen-like flavor that instills a calming effect on the body. The resulting brew is fragrant, refreshing, mellow, and naturally sweet.

According to the manufacturer:
Hangbai chrysanthemum, a traditional Chinese tea, is the best variety in chrysanthemum tea. Researched by modern medicine, it has been used to stop diarrhea. It has anti-inflammatory effects for improving eyesight, lowering blood pressure, reducing fat, and strengthening the body. It can be used to treat damp-heat jaundice, stomach pain, lack of appetite, edema, oliguria, etc. Taking a bath with chrysanthemum decoction can remove itching and swelling to improve skincare and beauty.

Chrysanthemum enters the Lung meridian and Liver meridian.
Indications: It relieve wind [nerve pain,] clears heat [inflammation,] improves eyesight, and detoxifies the liver. It has been used to "cure headache, dizziness, red eyesight, irritability, boils, swelling and poison."

Diet Therapy

1. Chrysanthemum licorice tea

Ingredients:
120 grams of white chrysanthemum (or chrysanthemum) and 12 grams of licorice.
Add water and make a decoction by simmering for at least 45 minutes. Drink this 3 to 4 times daily.

Efficacy: clears away heat [inflammation] and can be used for detoxification. Indications for boils, swelling, and pain.

2. Double Flower Tea

Ingredients:
50 grams of honeysuckle flower, 100 grams of Hangzhou chrysanthemum flower, appropriate amount of honey.

Rinse the honeysuckle and chrysanthemum flowers to remove impurities. After draining them, put them in a pot and fry them. After cooling, they will be stored in a clean bottle. Take a small amount when used. Place the flowers in a cup with boiling water and add honey to taste. Drink this 2 to 3 times a day.

Efficacy: clears away heat and wind [inflammatory pain], improves eyesight and reduces blood pressure. Indications: It has been used for heat polydipsia, hypertension, coronary heart disease, palpitations, insomnia, sore throat, cold and cough. It can also be used as a refreshing drink for preventing heatstroke in summer.