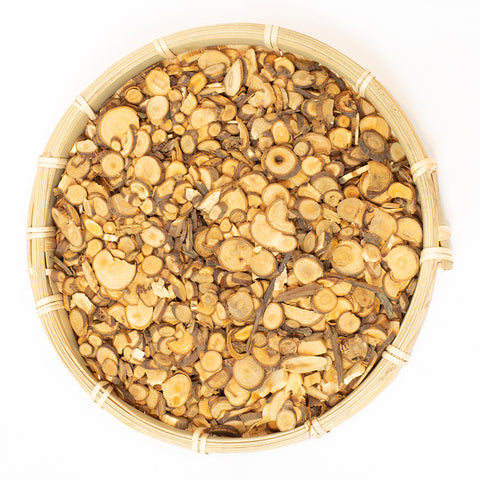 Cassia Twig/Gui Zhi 16oz
Origin: China
Product Weight: 16 oz
Package Type: Bag
In stock
Description:
桂枝 16oz
Cassia Twig
柳桂 川桂枝 桂枝木 桂枝尖 广眉尖
性味
辛;甘;性温
功效
为樟科植物肉桂的嫩枝。 主治风寒表证,肩背肢节酸疼,胸痹痰饮,经闭癥瘕。
经脉
膀胱经;心经;肺经
主治
发汗解肌,温经通脉。治风寒表证,肩背肢节酸疼,胸痹痰饮,经闭癥瘕。
用法用量
内服:煎汤1.5~6g,大剂量,可用至15~30g;或入丸、散。
注意禁忌
热病高热,阴虚火旺,血热妄行者禁服。
【食疗方】
升压茶
肉桂、桂枝、炙甘草各10g。先将上述三味药,锉成粗末,备用。每次用药末适量放于茶壶中,鲜开水泡约10分钟,即可当茶饮用。代茶频饮,连服1周。
功效:壮心阳,升血压。主治心阳不足所致的头晕,精神困倦,四肢无力,血压低于90/60mmHg等症。


Cassia Twig/Gui Zhi 16oz
Cinnamon is warmer in tone and tan in color with a sweet flavor. Cassia is more of a reddish-brown in color and has a more coarse texture, with a stronger, yet more bitter flavor. (thespruceeats.com)

Common names: Ceylon cinnamon, cassia (Eng), Zimt (Ger), cannelle (Fr), canella (Ital), dalchini (Hindi), darusita, ... It increases saliva, sharpens the appetite and promotes digestion, and encourages a gentle expectoration in ... Primarily warming: good for inducing perspiration and promoting circulation. (herbalreality.com)

Cassia has a wide range of pharmacological effects, including anti-tumor, anti-inflammatory and analgesic, anti-diabetic and anti-obesity, antibacterial and antiviral, cardiovascular protective, cytoprotective, neuroprotective, immunoregulatory effects, anti-tyrosinase activity and other effects.
Dosage Oral administration: decoction 1.5~6g, large dose, 15~30g; or into pills or powder. 
Cautions: Do not use this with fever, high fever, yin deficiency and fire, and blood-heat skin rash.
Boost tea 10g each of cassia, cinnamon sticks, and roasted licorice. First, grind the above-mentioned three herbs into coarse powder and set aside. Put an appropriate amount of the powder in a teapot each time, soak in freshly boiled water for about 10 minutes, then you can drink it as a tea. Drink frequently instead of tea, it can be taken for 1 week at a time. 
Efficacy: strengthens heart yang, raises blood pressure. 
Indications of dizziness, mental drowsiness, weakness of limbs, blood pressure lower than 90/60mmHg and other diseases caused by deficiency of heart yang.