Dry Lily Bulb/ Long Ya Bai He (8oz)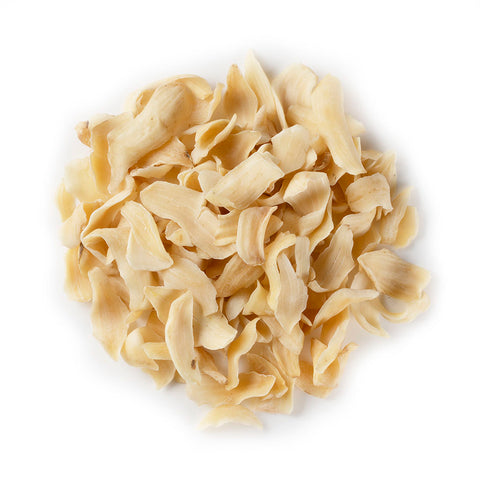 Dry Lily Bulb/ Long Ya Bai He (8oz)
Origin: China
Product Weight: 8 oz
Package Type: bag
In stock
Description:
龙牙百合(8oz)
性味
甘;微苦;微寒
功效
本品为百合科植物卷丹、百合或细叶百合的干燥肉质鳞叶。 主治肺燥或阴虚久嗽,咳唾痰血;热病后余热来清,虚烦惊悸,神志恍惚;脚气浮肿。
经脉
心经;肺经
主治
养阴润肺,止咳,清心安神。治肺燥或阴虚久嗽,咳唾痰血;热病后余热来清,虚烦惊悸,神志恍惚;脚气浮肿。
(1)润肺止咳:用于肺燥或阴虚之咳嗽、咯血,常配川贝。
(2)清心安神:用于热性病后余热不清、虚烦不眠、神志恍惚,常配地黄。
用法用量
内服:煎汤,6~12g;或入丸、散;亦可蒸食、煮粥。
外用:适量,捣敷。
注意禁忌
风寒咳嗽及中寒便溏者忌服。
Dry Lily Bulb/ Long Ya Bai He  (8 oz)
Pleasant tasting, sweet; slightly bitter; 
Its actions are slightly cooling.
This product is called dried succulent lily bulb, leaves of lily plant, lily of the valley, or lily. It treats lung dryness or chronic "yin deficiency," coughing, spitting bloody phlegm, following fever with residual inflammation, anxiety, palpitations, dizziness and edema. It enters the Heart and Lung Channels. 
Indications  Nourishes Yin (enhances fluids and tissue in lung, stomach and kidney,) nourishes the lungs, relieves cough, and calms the mind. It improves chronic lung dryness. 
Major herbal combinations: 
(1) For cough and hemoptysis (bloody nose) from lung dryness or yin deficiency, it is often used with Chuan Bei Mu (Tendrilled Fritillaria Bulb)
(2) For Clearing the mind and calming the nerves, "turbid heat" mental confusion after fever, insomnia, mental confusion it is often used with Rehmannia glutinosa.  
Dosage: Oral: Jiantang, 6~12g; or pill and powder; steamed or porridge.    
Topical: Appropriate amount, apply. Cautions: People with cough and cold and diarrhea should not take it.