BRAND'S Bird's Nest Drink with Rock Sugar (6*68 ml)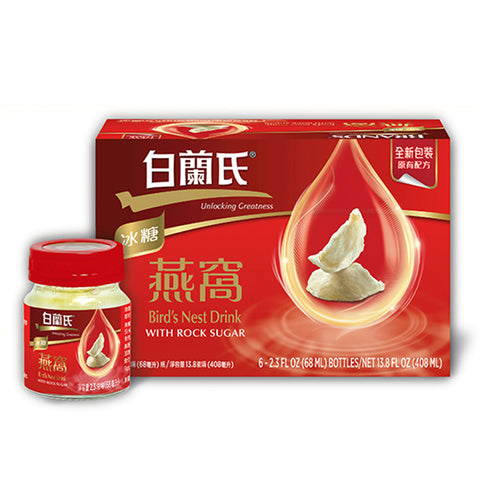 BRAND'S Bird's Nest Drink with Rock Sugar (6*68 ml)
Origin: Thailand
Product Weight: 13.8 oz
Package Type: bottle
In stock
Description:
白兰氏 冰糖燕窝
BRAND'S Bird's Nest Drink with Rock Sugar (6 X 68 ml)
Bird's nest is a traditional precious natural tonic that has been consumed in China since the Ming Dynasty. It has traditionally been an effective tonic for emperors and nobles. Bird's nest is mainly produced in Thailand, Indonesia, Vietnam, Malaysia and other places. The bird's nest is formed by condensing saliva from the mouth of the swiftlet sparrow or the same genus. The bird's nest is high in protein, with a delicate fragrance and a slight stickiness when chewed. Since ancient times, bird's nest has been regarded as a fine food and precious product for nourishing yin body fluids and beauty.  
Bird's Nest is traditionally used to clear phlegm, ease chronic dry coughs and relieve fatigue and premature aging. Bird's Nest can also be used to stimulate the appetite, improve digestion and stimulate bowel movement. 
BRAND'S® Bird's Nest Drink with Rock Sugar is made of 100% genuine bird's nest from Southeast Asia. BRAND'S uses FTIR (Fingerprinting) Technology to ensure only genuine nests are used in the products.
It is brewed with a pure Rock Sugar solution and prepared using a traditional recipe that seals in its flavor and natural goodness.
● It is all natural.
● It contains no fats and cholesterol.
● It is free of all artificial stimulants.
● It is easily digested.
Contains : 6 bottles X 2.3 oz (68 ml)