Boat-fruited Scaphium Seed/ Pang Da Hai(3oz/Bag)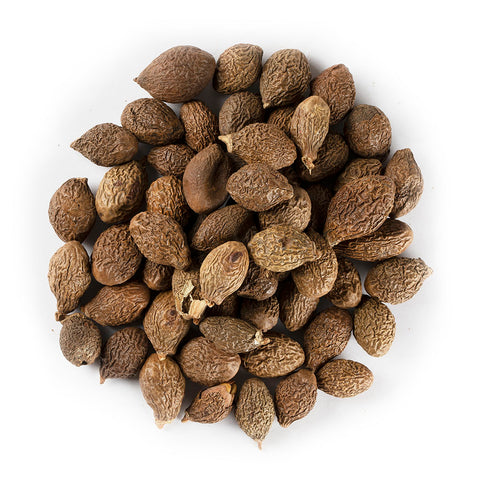 Boat-fruited Scaphium Seed/ Pang Da Hai(3oz/Bag)
Origin: China
Product Weight: 3 oz
Package Type: Bag
In stock
Description:
胖大海 /大海子(3oz/包)
性味
味甘;淡;性凉
功效
为梧桐科植物胖大海的种子。 主治干咳无痰,咽喉肿痛,肺热音哑,牙痛,热结便秘。
经脉
肺经、大肠经
主治
清热润肺,利咽解毒,清肠通便。主干咳无痰,咽喉肿痛,肺热音哑,牙痛,热结便秘。
用法用量
内服:煎汤或开水泡,2~4枚,大剂量可用至10枚;入散剂,用量减半。
Boat-fruited Scaphium Seed/ Pang Da Hai(3 oz/Bag)
If you have a sore, irritated throat, this is a good seed to add to tea. Scaphium affine or Sterculia lychnophora, commonly known as Malva Nut Tree, is an evergreen tree native to Myanmar, Cambodia, Laos, Vietnam, Thailand, Peninsular Malaysia, Sumatra and Borneo. In Taiwan it is called sweet gum tree and has culinary and traditional medicinal uses, 
In China, malva nut is used in tea as well by mixing with other ingredients such as sugar candy, red date, haw fruit, licorice, chrysanthemum flower, lilyturf root, and jasmine tea. The advantage of such tea is to reduce inflammation and feeling of heat in the body, and nurture the body.
According to Chinese medicine, the use of Scaphium seed is to remove heat from the lungs, to cure sore throat, to counteract toxicity, and to relax the bowels. Therefore, when a person has symptoms such as hoarseness of voice, dry cough, and sore, dry throat due to heat in the lung; constipation with headache and bloodshot eyes, they should consume malva nut by putting it into boiling water. (healthbenefitstimes.com)
From the manufacturer: 
The taste is sweet; It is light and cool in nature.
Indications: use for dry cough without phlegm, sore throat, lung heat, toothache, constipation. 
It enters the Lung and Large Intestine meridians. 
Indications: To clear away heat and moisturize the lungs, relieve the throat and detoxify, purgative and laxative. 
Oral administration: decoction or boiled 2~4 seeds, a large dose can be used up to 10 seeds; or grind into powder. The powder dosage is reduced by half