Black Moss/ Fa Cai Gift Box (4 oz/box)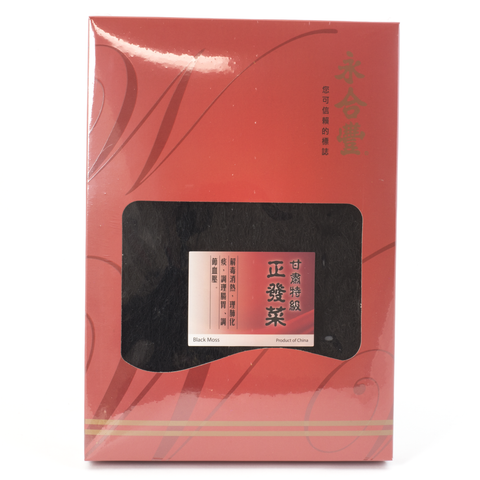 Black Moss/ Fa Cai Gift Box (4 oz/box)
Origin: China
Product Weight: 4 oz
Package Type:
In stock
Description:
特级 甘肃 发菜 髮菜(4 oz/盒)
广东人取"发"(fà)的谐音"发"(fā)而写成"发菜",意为发财,广东通用简体字后,一律简化成"发",使之变为互通,在农历新年的广东菜式中更为常见。
发菜始见载于清代李渔(1611-约1679年)《闲情偶记》,"菜有色相最奇而为《本草》、《食物志》诸书之所不载者,则西秦所产生之头发菜是也浸以滚水,拌以姜醋,其可口倍于藕丝、鹿角菜。"
上等的发菜颜色乌黑而丝长,煮出来的汤水呈红色。市面上有假发菜出售,多以粟米须或金鱼水草染黑仿制。要辨别真假,可用水试浸发菜,真发菜浸水后变粗发涨,且不易折断。外形整齐、长度约10厘米的发菜为佳,不要选太细密的,不要有油污味。
金钱发菜
【材料】:发菜,鸡蛋,鸡胸肉.
【做法】:
发菜泡发;鸡蛋两个,蛋清和蛋黄分开放,蛋黄加盐胡椒面打散摊成蛋黄饼。切成条。
蛋清加淀粉打散摊成蛋皮。
鸡胸肉剁成馅,加盐,胡椒面,蚝油水,拌成鸡肉馅。
蛋皮上面摊上鸡肉馅。 铺上发菜,中间放切成条的蛋黄条。
卷成条,放入蒸锅,大火蒸五分钟左右。 蒸好出锅的发菜卷,切成一厘米厚的片,摆盘。
Black Moss/ Fa Cai Gift Box (4 oz/box)

Black moss is a bacterium (Nostoc flagelliforme) that grows in specific parts of China.
Black Moss is known as fat choy which sounds like "good fortune" in Cantonese: gong hei fat choy! thus making it a favorite during Chinese New Year. Besides bringing in good fortune, it brings health benefits. . . [eaten in small amounts] It is low in fat and cholesterol and is often thought to be quite nutritious. Its effect is cooling in nature, reducing heat and phlegm. It is also said to contain high protein and carbohydrates, as well as aid the production of blood cells due to its high iron content. Babies, young children, and pregnant women should consume it with caution and in limited quantities. https://www.getdoc.com/black-moss-nutritional-value/
Black moss is a terrestrial cyanobacterium (a type of photosynthetic bacteria) that is used as a vegetable in Chinese cuisine.