Barbary Wolfberry Fruit /Black Gou qi zi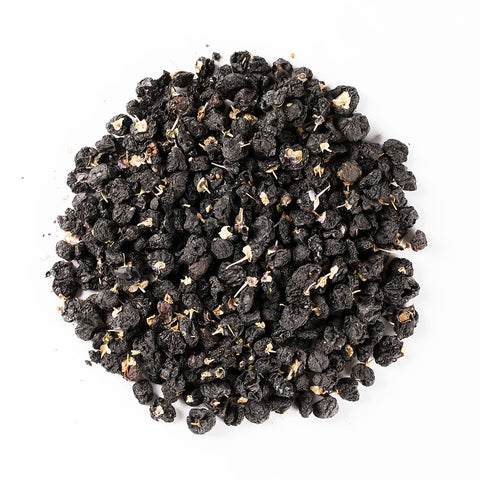 Barbary Wolfberry Fruit /Black Gou qi zi
Origin: China
Product Weight: 4 oz/16 oz
Package Type: Bag
In stock
Description:
精選 野生 黑枸杞
黑果枸杞,别名:苏枸杞,俗称:黑枸杞。为中国西部特有的沙漠药用植物品种,产于中国青海省东部、新疆北部、甘肃、西藏等地。黑果枸杞是迄今为止确定的天然原花青素含量最高的野生植物,经测定,黑果枸杞含有17种氨基酸,13种微量元素,其中钙、镁、铜锌、铁的含量均高于红枸杞,营养价值也远远高于普通红枸杞,被誉为"软黄金"。
黑果枸杞味甘、性平,富含蛋白质、脂肪、糖类、游离氨基酸、有机酸、矿物质、微量元素、生物碱、维生素C、B1、B2等各种营养成分。而且含有丰富的黑果色素—天然原花青素(红果枸杞不含),其OPC含量超过蓝莓(黑果枸杞含OPC 3690mg/100g;蓝莓含OPC 330~3380mg/100g)
注意黑枸杞的保存方式:防潮防异味、低温冷藏。
适宜人群最适合吃黑枸杞的是体质虚弱、抵抗力差的人。而且,一定要长期坚持,每天吃一点,才能见效。
另外,需要注意,不是所有的人都适合服用的。由于它温热身体的效果相当强,正在感冒发烧、身体有炎症、腹泻的人最好别吃 。
Barbary Wolfberry Fruit /Black Gou qi zi (4 oz/16 oz)
Black goji berry has the same qualities as the red goji berry with the added benefit of a huge amount of resveratrol. 
Protects the eyes. ... 

Provides immune system support. ... 

Protects against cancer. ... 

Promotes healthy skin. ... 

Stabilizes blood sugar. ... 

Improves depression, anxiety, and sleep. ... 

Prevents liver damage.
The black goji fruit has been used as traditional Tibetan medicine for thousands of years. Recently, some investigations indicated that Lycium ruthenicum Murr. exhibits a wide range of pharmacological properties, such as anti-oxidation, anti-fatigue and hypoglycemic activity
https://www.ncbi.nlm.nih.gov/pmc/articles/PMC4723828/
From the manufacturer: 
It is a unique desert and medicinal plant variety in western China, produced in the eastern part of Qinghai Province, northern Xinjiang, Gansu, Tibet, and other places. Lycium ruthenicum is the wild plant with the highest content of natural proanthocyanidins. It has been determined that Lycium ruthenicum contains 17 kinds of amino acids and 13 kinds of trace elements, among which the contents of calcium, magnesium, copper, zinc, and iron are all higher than those of red medlar. The value is much higher than that of ordinary red wolfberry, and is known as "soft gold".  
Lycium ruthenicum is sweet in taste and mild in nature. It is rich in protein, fat, carbohydrates, free amino acids, organic acids, minerals, trace elements, alkaloids, vitamin C, B1, B2, and other nutrients. And it is rich in black fruit pigment-natural proanthocyanidins (red fruit wolfberry does not contain), and its OPC content exceeds blueberry (Black fruit wolfberry contains OPC 3690mg/100g; blueberry contains OPC 330-3380mg/100g)  
Pay attention to the storage method of black wolfberry: Store in a moisture-proof area in cold storage and discard any that have a peculiar smell.  
The most suitable for eating black wolfberry are people with weak physique and poor resistance. Moreover, you must persist for a long time and eat a little every day to get results.  In addition, it should be noted that not everyone is suitable for taking it. Since it has a strong effect of warming the body, it is best not to eat it if you are catching a cold, fever, inflammation, or diarrhea.