Spreading Hedyotis Herb/Bai Hua She She Cao 8oz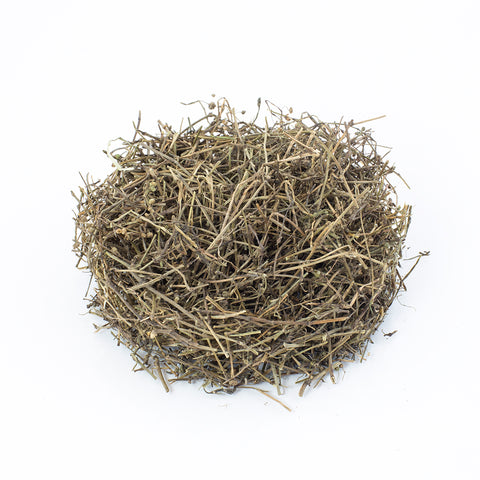 Spreading Hedyotis Herb/Bai Hua She She Cao 8oz
Origin: China
Product Weight: 8 oz
Package Type: Bag
In stock
Description:
白花蛇舌草(8 oz/包)
Spreading Hedyotis Herb, Herb of Spreading Hedyotis
矮脚白花蛇利草 奶沙尔 白花蛇草 蛇舌癀 蛇针草 蛇总管 蛇舌草 目目生珠草 节节结蕊草 千打捶 羊须草 鹤舌草 细叶柳子 甲猛草 白花十字草 尖刀草 珠仔草 小叶锅巴草 南地珠 散草 竹叶草 铁沙尔
来源
本品为茜草科耳草属植物白花蛇舌草的全草。
性味
苦甘,寒。
功效
本品为茜草科耳草属植物白花蛇舌草的全草。 治肺热喘咳,扁桃体炎。咽喉炎,阑尾炎,痢疾,尿路感染,黄疸,肝炎,盆腔炎,附件炎,痈肿疔疮,毒蛇咬伤,肿瘤。亦可用于消化道癌症。
Spreading Hedyotis Herb/Bai Hua She She Cao (8oz/bag)
This product is the whole plant of Hedyotis diffusa Willd. [Oldenlandia diffusa (Willd.) Roxb.] a plant belonging to the genus of Rubiaceae. It is a medicinal herb prevalent in East Asia and Southern China used as a tea with skullcap herb or poured over tea. It is strongly detoxifying and has been used to clear complexion blemishes.
The taste is bitter sweet, and its effects are strongly anti-inflammatory. The decoction has traditionally been used to treat "lung heat," (inflammation) asthma and cough, tonsillitis also pharyngitis, appendicitis, dysentery, urinary tract infections, jaundice, hepatitis, pelvic inflammatory disease, adnexitis, carbuncle boils, snake bites, and tumors. It can also be used for digestive tract cancer and cancers of liver, lung, stomach and rectum.
According to a 2004 study published at PubMed: "Anticancer activities of Oldenlandia diffusa," the water extract of the raw herb Oldenlandia diffusa was used to study the in vitro anti-proliferative activities of the extract tested against eight cancer cell lines and one normal cell line. The results: "The extract exhibited a strong antiproliferative activity against all cancer cell lines tested." 
Conclusions: 
Oldenlandia diffusa extract effectively inhibited the growth of all the eight cancer cell lines and induced significant increase of apoptosis. The extract exhibited minimum toxic effect on normal pancreatic cells. Furthermore, there was a significant inhibition of lung metastases in the animal model with no noticeable adverse effects. The herb extract could be a potential anticancer agent.
https://pubmed.ncbi.nlm.nih.gov/15273074/