Premium Bulbus Lily/ Long Ya Bai He 8oz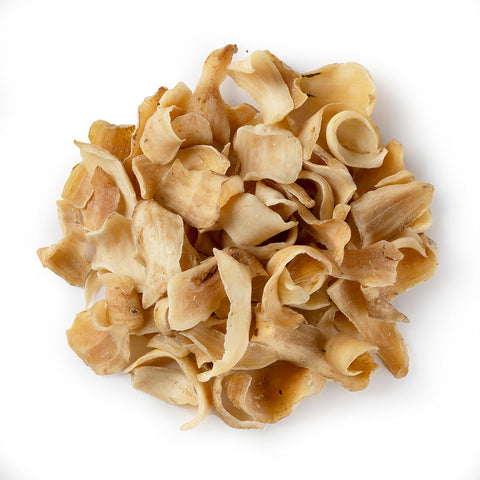 Premium Bulbus Lily/ Long Ya Bai He 8oz
Origin: China
Product Weight: 8 OZ
Package Type: Bag
In stock
Description:
精选 特级龙牙百合(8 oz)
性味
甘;微苦;微寒
功效
本品为百合科植物卷丹、百合或细叶百合的干燥肉质鳞叶。 主治肺燥或阴虚久嗽,咳唾痰血;热病后余热来清,虚烦惊悸,神志恍惚;脚气浮肿。
经脉
心经;肺经
主治
养阴润肺,止咳,清心安神。治肺燥或阴虚久嗽,咳唾痰血;热病后余热来清,虚烦惊悸,神志恍惚;脚气浮肿。
(1)润肺止咳:用于肺燥或阴虚之咳嗽、咯血,常配川贝。
(2)清心安神:用于热性病后余热不清、虚烦不眠、神志恍惚,常配地黄。
用法用量
内服:煎汤,6~12g;或入丸、散;亦可蒸食、煮粥。
外用:适量,捣敷。
注意禁忌
风寒咳嗽及中寒便溏者忌服。 
食疗方
1.百合桂圆红枣粥
百合六钱、桂圆(龙眼肉)一两、红枣15个、白米1杯。百合洗净泡软,红枣洗净拍裂去子,桂圆肉掰散。白米淘净沥干,晾约20分钟。白米入锅,加水约6碗熬粥,约待四分熟时即加入百合、红枣、桂圆,滚沸1分钟加入冰糖调味再续煮2至3分钟即可。
功效 适宜夜睡不稳、精神不宁、意志不集中、多汗等,可调和经络循环、和颜润色并适合更年期妇女所患之精神焦虑症。
2.百合红枣银杏羹
百合50克,红枣10枚,白果50克,牛肉300克,生姜两片,盐少许。 将新鲜牛肉用滚水洗干净之后,切薄片,备用。白果去壳,用水浸去外层薄膜,再用清水洗净,备用。 3.百合、红枣和生姜分别用清水洗干净。红枣去核;生姜去皮,切两片,备用。瓦煲内加入适量清水,先用猛火煲至水滚,放入百合、红枣、白果和生姜片,改用中火煲百合至将熟,加入牛肉,继续煲至牛肉熟,即可放入盐少许,盛出即食。
功效 补血养阴,滋润养颜,润肺益气,止喘,涩精。
3.百合粥
鲜百合30~50克,粳米50克,冰糖适量。将粳米洗净,入锅内,加水适量,置武火上浇沸后改文火煮40分钟,放入百合煮熟即可。食时加入冰糖。早晚各服1次。
功效 补肺益脾,定喘止咳。主治肺阴不足、脾气虚弱引起的咳嗽、少痰、气喘、乏力、食欲不佳而时有虚热烦躁者。
Premium Bulbus Lily/ Long Ya Bai He  (8 oz)
Pleasant tasting, sweet; slightly bitter;
Its actions are slightly cooling.

This product is called dried succulent lily bulb, leaves of lily plant, lily of the valley, or lily. It treats lung dryness or chronic "yin deficiency," coughing, spitting bloody phlegm, following fever with residual inflammation, anxiety, palpitations, dizziness and edema. It enters the Heart and Lung Channels.

Indications Nourishes Yin (enhances fluids and tissue in lung, stomach and kidney,) nourishes the lungs, relieves cough, and calms the mind. It improves chronic lung dryness.

Major herbal combinations:
(1) For cough and hemoptysis from lung dryness or yin deficiency, it is often used with Chuan Bei Mu (Tendrilled Fritillaria Bulb)
(2) For Clearing the mind and calming the nerves, "turbid heat" mental confusion after fever, insomnia, spaciness it is often used with Rehmannia glutinosa.

Dosage Oral: Jiantang, 6~12g; or pill and powder; steamed or made with porridge.
Topical: Appropriate amount, apply.
Cautions: People with cough from colds/influenza with diarrhea should not take it.