999 Cold Remedy Granular/ Ganmaoling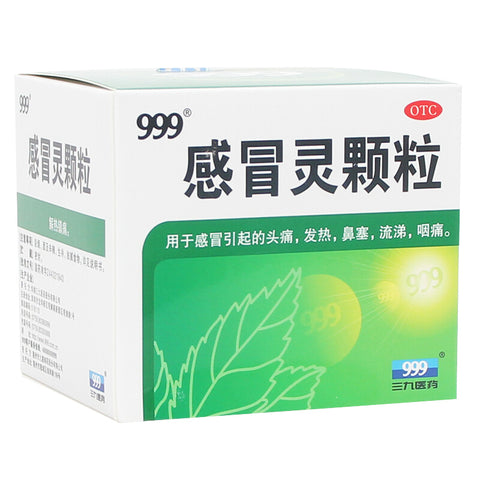 999 Cold Remedy Granular/ Ganmaoling
Origin: China
Product Weight: 10 g* 9
Package Type:
In stock
Description:
三九999感冒灵颗粒 10g×9袋 标准装:1盒
999 Cold Remedy Granular/ Ganmaoling
Traditionally used to relieve common cold, hay fever, upper respiratory allergies, runny nose, minor aches and pains, fever, sore throat, watery eyes, headache. . . . not intended to prevent or cure any disease.
The popular 999 Cold Remedy is often used at the early stage of the common cold. It is formulated to relieve: 
Headache

Fever

Sneezing, runny nose

Hay fever and allergies 

Sore throat and acute tonsillitis.
999 brand Ganmaoling Keli is a classic example of a Western-Chinese medicine blend. The ingredients are: 
Wild chrysanthemum  

Evodia leaf

Acetaminophen

Caffeine

Sugar
The Chinese herbs remove heat and toxins in the body. Analgesic, anti-inflammatory acetaminophen reduces aches.
Take the granules the same way you make instant coffee. The taste is bitter-sweet. The effect is soothing and cooling. The beverage remedy can be an effective way to increase fluids and reduce fever. Eat lightly, stay home and rest. 
If fever discomforts worsen, check with a health professional.