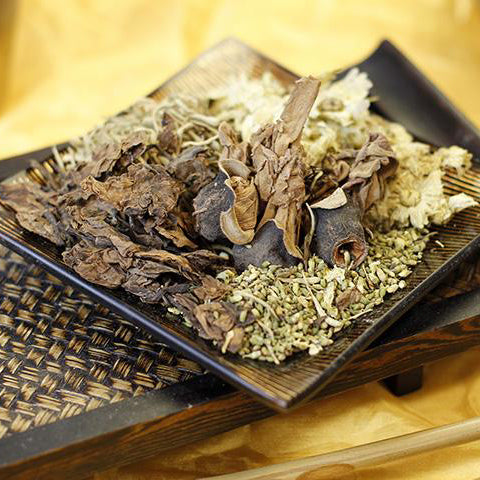 Five Flower Herbal Tea
Origin:
Product Weight:
Package Type:
In stock
Description:
五花茶
Five Flowers Tea / Wu Hua Herbal Tea 
成份:金銀花、菊花、槐花、木棉花、雞蛋花
用法: 煎服,五碗水煎成两碗后内服。
五花茶是一种中国民间传统饮品,广东人常饮的凉茶之一,性微寒,具有清热、解毒、消暑去湿、减低肠胃刺热、利小便、凉血、预防夏季风热感冒及流行性感冒的功效,尤其适合夏天时饮用,其他功效则视乎所用的药材而定。
溫馨提示:請先向醫師咨詢是否合適服用此茶
Five Flowers Tea 
五花茶 (Wu Hua Herbal Tea)
Effect:
For reducing sore throat, congestion and eye strain
Ingredients: Honeysuckle, Chrysanthemum, Sophora japonica, Kapok, Frangipani
Honeysuckle (lonicera japanica), a broad-spectrum antibiotic herbal medicine known to reduce staff, strept, and pneumonia germs, is the unopened bloom that is called in Chinese gold and silver flower. It is slightly bitter and soothing for sore throat, breast, and skin infections. Combined with chrysanthemum flower, it is recommended as a cold/flu remedy. Chinese chrysanthemum is sweet and delicious.
Japanese sophora flowers and buds are said to be cooling for the liver. In Chinese medicine speak that means it helps reduce red, dry eyes. Sophora is a known cardio tonic herb that helps to promote blood vessel health and regulates the circulatory system. It is helpful for issues ranging from hypertension to hemorrhoids. Sophora japonica, the beautiful flower from the ornamental pagoda tree, contains two potent flavonoids, troxerutin and oxymatrine, which exhibit strong antioxidant activity.
Kapok fruit looks like a pod with fluffy pillow filling inside, and it is. Before it becomes pillow filling the young fruit is eaten in areas of Asia especially Thailand. The infusion, apart from being used as an oral rinse, is also used for coughs, hoarseness, catarrh, and uterine discharge.
Medicinally frangipani has antioxidant and anti-inflammatory properties. This maintains health by eliminating harmful toxins and free radicals. The oil's purifying qualities protect organs from damage. 
Directions:
Add five bowls of water. Boil five bowls of water into two bowl, then filter and take the soup. 
The amount of water is a key point because it can directly affect the efficacy of traditional Chinese medicine, so if cooking the herbal soup according to the guidelines, the best results will be achieved.
Suggestions:
Five Flowers Tea offers a cooling relaxing trip that helps clear the senses and brings peace. As a pleasant tea, steep the herbs in boiling water for at least five minutes. For a stronger medicinal brew, simmer in water for at least thirty minutes. Lemon or raw honey may be added after it is cool. 
Please consult your physician before using this product.