Yunnan Chi Tse Beeng Cha 1997yr Ripe Pu'erh Tea Cake 7572(357g)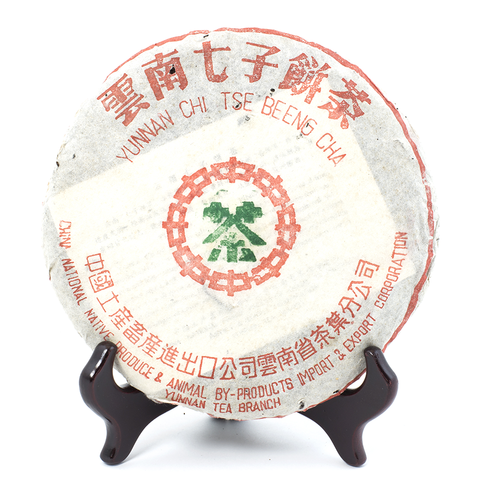 Yunnan Chi Tse Beeng Cha 1997yr Ripe Pu'erh Tea Cake 7572(357g)
Origin: China
Product Weight:
Package Type: Bag
In stock
Description:
云南七子饼茶 中茶牌 97年大益 水蓝印 7572(勐海茶业有限公司)
| | |
| --- | --- |
| 工艺 | 熟茶 |
| 品牌 | 大益 |
| 品名 | 水蓝印7572 |
| 年份 | 1997 |
| 厂商 | 云南勐海茶厂 |
| 外观 | 饼茶 |
| 规格 | 357克/片 , 7片/提 , 84片/件 |
| 原料 | 云南大叶种晒青毛茶 |
| 保质期 | 越陈越香 |
茶很干净,水厚汤滑,醇甜有老韵,留存感强,老熟的体贴感只可意会。仓储纯正,无丝毫杂味异味.茶气足,2-3泡,微微出汗,审茶可定义满级茶气,无熟香,只有陈香。回甜快,入口即甜,生津出韵快并且持久,喉部有喉韵。入口有舌头搅动一下,米汤感很强,下喉顺糯,滑度高。
Yunnan Chi Tse Beeng Cha 1997yr Ripe Pu'erh Tea Cake 7572(357g)
Pu'erh is a fermented tea with a flavor that deepens with age. Quality Pu'erh teas are collected and traded for high prices like fine wine... Generally speaking, Pu'erh can be sweet, bitter, floral, mellow, woody, astringent, sour, earthy, . . . A combination of tastes appears in one single steeping. Bear in mind that the taste also changes as the tea ages. (teasenz.com)
Arbor tea trees are ancient with a complex root system that gives depth to the taste and health effects of Pu'erh tea. In China, Pu-erh tea has long been sipped to achieve a variety of health benefits, such as improvements in heart health and reductions in cholesterol levels. It's also said that Pu-erh tea can help promote weight loss, enhance eyesight, stimulate circulation, and soothe hangovers.
Yunnan Dayezhong Sun-dried Green Tea: Shelf life, the more aging the more fragrant 

The tea is very clean, the soup is smooth, mellow, sweet, and has an old charm, and the fragrant aftertaste is strong. The mature, comforting feeling is highly appreciated. 
The storage is careful, without the slightest peculiar smell. The tea is fragrant with 2-3 bubbles, full-grade tea with a delightful aging fragrance. The sweetness is quick, the first sip is sweet, the rhyme of the flavors is quick and lasting, and there is comfort in the throat. There is an exciting tongue stirring at the entrance, the brewed soup feels very strong, the lower throat is smooth, and moistened.