Jasmine Silver Needle Green Tea #1509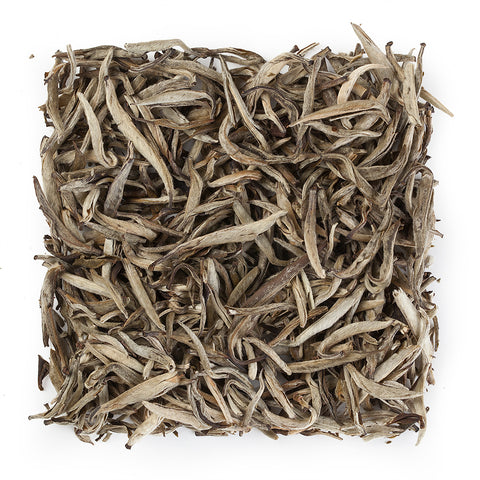 Jasmine Silver Needle Green Tea #1509
Origin: China
Product Weight: 4 oz/1 lb
Package Type: Bag
In stock
Description:
品牌 Brand:
永合豐 雀石茗茶          WHF Twin Birds
产地 Origin:
福建 福鼎  Fujian,China
品名 Name:

茉莉银针                Jasmine Silver  Needle 

保质期 Shelf Life:
18 months
分类 Sort:
花茶 Green Tea
等级 Level:

一级 Premium

采摘 Season:
谷雨前 Spring
Caffeine Level:
☆☆
干茶
Body:
外形扁平,芽头肥壮,浅黄褐色,芽毫银亮,花香清幽Pale beige buds. Jasmine flowers and apple-flavored sweets.
茶汤
Liquor:
汤色浅杏黄,清澈明亮,香气鲜灵,甜香清爽,滋味鲜醇爽口,唇齿留香Grey golden juice.  Jasmine aroma with starfruit and fruit candy over a slate rockiness.
储存方法
Storage:
常温、阴凉、干燥、可长期保存
Store in airtight, opaque packaging; in a cool, dry place
此茉莉银针产自福建政和,是用福建政和的特级大白毫作为茶坯,再加窨茉莉鲜花,反复窨制七次而成。成品干茶条索紧细如针,匀齐挺直,满披毫毛,香气鲜爽浓郁,汤色清澈明亮,是茉莉花茶中不可多得的精品。茉莉银针的滋味,犹如茶香与花香缠绵,香中带甜,而且滋味鲜甜甘醇,又不缺厚度,协调性十分惊喜。


Jasmine Silver Needle(Mo Li Yin Zhen) is made from whole, young tea leaves that are covered with peach fuzz and may lack tips.  The harvested leaves are dried with heat to halt the oxidation process, and then tossed with jasmine flowers to capture the aroma. Jasmine was once traded along the silk route and is the national flower of Indonesia, Pakistan, and the Philippines. 
| | | |
| --- | --- | --- |
| Brewing Method: | Teacup | Chinese Gaiwan |
| Water volume: | 8.8oz / 250ml | 3.8oz / 110ml |
| Temperature: | 194℉ / 90℃ | 194℉ / 90℃ |
| Tea Quantity: | 2g Tea | 4g Tea |
| Brewing time:  | 3 - 5 mins |  5 steeps: 20s, 40s, 60s, 90s, 120s |