Nanqi Jinbanzhang Ripe Pu-Erh Tea Cake - 2013 yr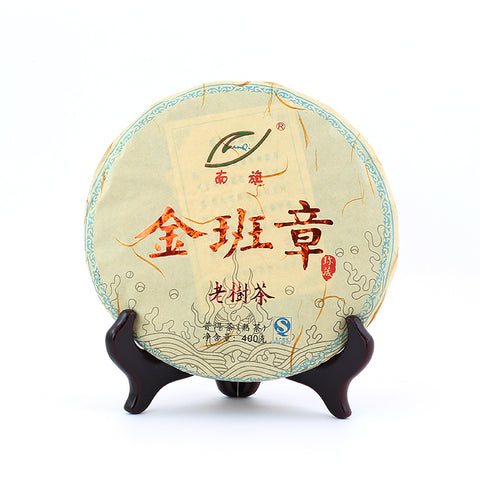 Nanqi Jinbanzhang Ripe Pu-Erh Tea Cake - 2013 yr
Origin: China
Product Weight: 400g
Package Type:
In stock
Description:
南旗 金班章 老树 普洱茶 2013年 熟茶 茶饼 400g
Nanqi Jinbanzhang Ripe Pu-Erh Tea Cake - 2013 yr
Pu-Erh is a fermented, digestive tea. This Dark Pu-Erh is aged longer and has a stronger distinctive ripe, earthy, semi-sweet flavor. It has been used to improve digestion and circulation and contains a natural statin known to help reduce harmful cholesterol and improve weight loss. 
This tea has a very smooth character without any astringency or bitterness. The clean woody profile has soft, creamy, and earthy notes of walnuts. Overall this is a comforting tea with an accessible taste that is a great introduction to Pu-erh teas. We suggest brewing at 90°C for 3-5 minutes according to your taste. (curioustea.com)
Teas made from "old trees," dating from many hundreds of years are more valuable and taste-worthy because the root system of the trees absorbs the soil's nutrients and the leaves are higher in antioxidants. The tea taste is prized and the ancient trees have been protected as national treasures.