Po Sang Yuen Winter Honey (500g)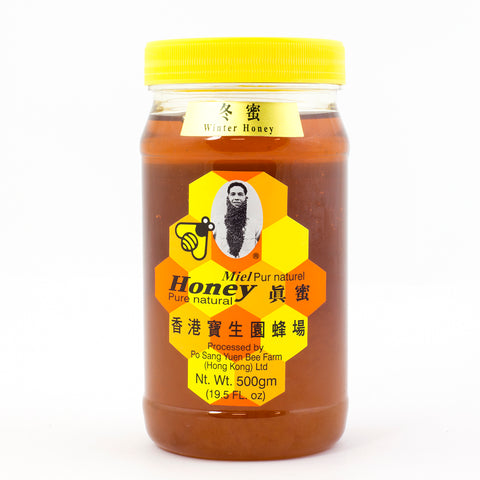 Po Sang Yuen Winter Honey (500g)
Origin: Hongkong, China
Product Weight: 500 g
Package Type: Bottle
In stock
Description:
寶生園 冬蜜(500克/瓶)
冬蜜特指 鹅掌柴花蜜,是南方特有冬季蜜种。鹅掌柴也叫鸭脚木、文母树,原产中国台湾、福建、云南、贵州、四川、西藏、广东、海南等地,一般用它的根和皮晒干为药,药性:味涩,味苦,性平。功用主治:发汗解表,祛风除湿,舒筋活络。治感冒发热,咽喉肿痛,风湿关节痛,跌打损伤,骨折。鹅掌柴花蜜色泽为浅琥珀色,较易结晶,质地优良,味甘而略带特有苦味。除具有蜂蜜之清热、补中、解毒、润燥等功效外,还有发汗解表、祛风除湿之功效,对感冒发热、咽喉肿痛、风湿关节痛有较好辅助疗效。
Po Sang Yuen Winter Honey (500g)
Winter Honey is all-natural honey derived from different flowers collected in winter. Winter honey refers specifically to Schefflera [astragalus flower] nectar, which is a unique winter honey species in the South. Schefflera is also called Duck's Foot Wood and Astragalus Vulgaris. It is native to Taiwan, Fujian, Yunnan, Guizhou, Sichuan, Tibet, Guangdong, Hainan, and other places in China. Its roots and skins are generally used as medicine. 
The medicinal properties: astringent, bitter taste, and neutral in nature. Functions and indications: It supports sweating to relieve the surface [rid the body of chills and other discomforts], dispelling wind and dampness, [nerve pain and swelling] relaxing muscles and collaterals. It is traditionally used to cure cold and fever, sore throat, rheumatism and joint pain, bruises, fractures. 
Schefflera nectar is light amber in color, easy to crystallize, with good texture, sweet and slightly bitter. In addition to the effects of heat-clearing, nourishing, detoxifying, and moisturizing honey, it also has an excellent taste.