Pearl of Jasmine Green Tea #1401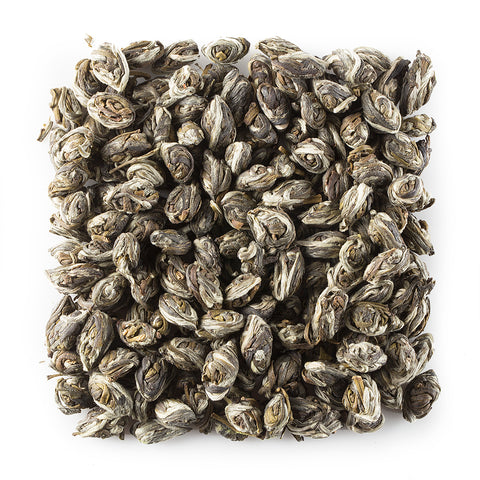 Pearl of Jasmine Green Tea #1401
Origin: China
Product Weight: 4 oz/1 lb
Package Type:
In stock
Description:
品牌Brand:
永合豐 雀石茗茶WHF Twin Birds
产地Origin:
广西 横县 Guangxi, China
品名Name:
珍珠凤眼 茉莉花茶 Pearl of Jasmine Tea
保质期Shelf Life:
18months
分类Sort:
花茶 绿茶  Green Tea
等级Level:
一级 

Premium

采摘Season:
谷雨前 Spring
Caffeine Level:
☆☆

☆

干茶
Body:
形若凤眼,颗粒饱满,白毫满披


Big and tightly rolled balls with prominent white streaks. Sweet jasmine and ripe strawberries.



茶汤
Liquor:
香气鲜灵清雅,口感馥郁香醇,汤色清亮


Bright and pale golden green. Taste jasmine, orchid and dry stone leading to summery warm meadows.



储存方法
Storage:
阴凉、干燥、防异味
Store in airtight, opaque packaging; in cool, dry place
茉莉凤眼产于福建福州,选用了精选的烘青绿茶和广西横县优质茉莉花精制而成。品质特点:外形圆紧重实、匀整;内质香气鲜浓,滋味醇厚,汤色黄亮,叶底肥厚。
窨(yin)制,意为将茶与花按1:1的比例拼合熏制后,再将茶与花分离,此为一窨。永合豐的此款茉莉凤眼先后窨制五次,使茶叶充分吸收茉莉花的香气,又不至掩盖了茶香,少一次则不足,多一次则有余,成茶后只闻香不见花。
存放建议:茉莉花茶的香气是芳烃类物质,易挥发。保管时需注意防潮,建议存放在阴凉,干燥,透气无异味的环境中。 
Pearl Jasmine Green Tea contains tender silver leaves tightly rolled up into a pearl shape and scented with Jasmine flowers. The blending process usually takes three rounds, each starting with a fresh batch of flowers for optimal fragrance and aroma. Once these pearls are brewed, the leaves unfurl and release an aroma of citrus and jasmine orchards as well as antioxidants that are great for the body and skin.

Recommend Brewing Method
| | | |
| --- | --- | --- |
| Brewing Method: | Tea cup |  Chinese Gaiwan |
| Water volume: | 12oz / 355ml | 3.8oz / 110ml |
| Temperature: | 185℉ / 85℃ | 185℉ / 85℃ |
| Tea Quantity: | 5 g Tea | 5g Tea |
| Brewing time:  | 5 - 8 mins | 5 steeps: rinse, 45s, 60s, 90s, 120s, 150s |