Mikei Red Reishi Essence EX (60 capsules/box)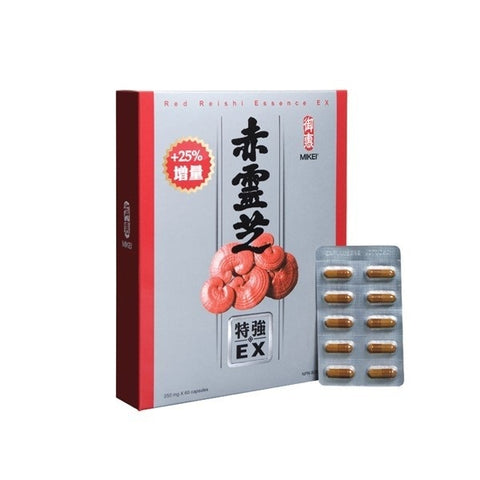 Mikei Red Reishi Essence EX (60 capsules/box)
Origin: Japan
Product Weight:
Package Type: box
In stock
Description:
御惠 赤灵芝特强EX  胶囊(60 粒/ 盒)
每粒【御惠牌】特强EX胶囊含250毫克浓缩度为16.6比1的赤灵芝精华,相当于用4150毫克的优质赤灵芝子实体,利用仿效古方煲药原理的热水抽出法提炼赤灵芝精华,疗效极高!  【御惠牌】精益求精,在生产【御惠牌】赤灵芝特强EX(白金装)的时候,将每颗赤灵芝精华的含量提高25%。每盒【御惠牌】赤灵芝特强EX含有60粒胶囊,赤灵芝精华含量从200mg提高到250mg。

Mikei Red Reishi Essence EX (60 capsules/box)
Each Mikei® Red Reishi Essence EX capsule contains 250mg of highly concentrated red reishi mushroom extracted from the fruiting body of fully mature, superior-grade red reishi. Mikei Red Reishi Essence EX contains 25% more red reishi extract than regular Mikei (50mg more red reishi extract per capsule)_.
From the manufacturer: 
Each [Mihui Brand] Extra Strength EX Capsule contains 250 mg of red Ganoderma lucidum extract with a concentration of 16.6 to 1, which is equivalent to 4150 mg of high-quality red Ganoderma lucidum fruiting bodies. The red ganoderma is extracted by the hot water extraction method that imitates the principle of ancient recipes. Lingzhi essence is extremely effective! 
[Yuhui brand] keep improving, when producing [Yuhui brand] Red Ganoderma EX (Platinum Pack), the content of each red Ganoderma lucidum essence is increased by 25%. Each box of [Yuhui Brand] Red Ganoderma EX contains 60 capsules, and the content of red Ganoderma lucidum essence has been increased from 200mg to 250mg.