Dried Black Fungus 6oz/7oz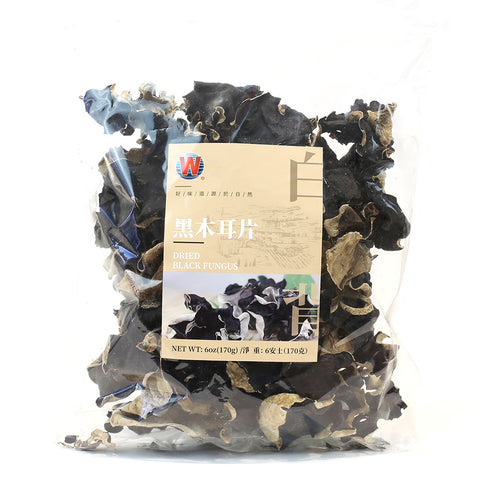 Dried Black Fungus 6oz/7oz
Origin: China
Product Weight: 6 oz/7 oz
Package Type: Bag
Out of Stock
Description:
永合豐 白背黑木耳(6oz/7oz)
白背黑木耳又称毛木耳(不同于东北黑木耳),别名单叶蔓荆、蔓荆子叶、白背五指柑,正面是黑色,背面是灰白色,且有一层细小的绒毛,对治疗和预防中老年人心脑血管阻塞疾病及降血脂、降血压有奇特的疗效,对老年人便秘也有很好的防治效果。
食谱:
白背黑木耳汤
材料:白背黑木10克,瘦肉1两,姜3片,大枣5粒清水6碗
做法:
1先把瘦肉飞水
2把各材料放入煲内,用文火煲至剩2碗汤,加盐调味.
白背黑木耳减肥汤
材料:白背黑木耳3朶,红枣10粒,生姜4-5片,猪展2件。
做法:
1。先把黑木耳浸泡至软身
2。下10碗清水,加入生姜片,红(棘去核),黑木耳同煲滚,再下猪长,用大火煲滚,改中小火煲1个半小时,加盐调味即可.隔天喝1次,连喝3次.
Dried Black Fungus (6oz/7oz)
The white back black fungus also called the wood fungus, is not tree ear or cloud ear mushroom. It is mainly produced in Fujian, China. Functions: White Back Black Fungus can promote vital energy, activate the brain, cleanse the lungs, nourish blood and regulate blood cholesterol level.
It is Sweet in taste, mild in nature.
Soak the White Back Black fungus for around an hour in water. Cut off the hard bottom parts. Rinse and ready for cooking.
White Back Black fungus should be stored in a cool dry place. If it is to be stored for some time before serving, it is better to place it in a refrigerator (0-8˚C). https://www.hkjebn.com/en/hk/knowledge/view/white-back-black-fungus
From the manufacturer: 
White-backed black fungus is also called hairy fungus (different from northeastern black fungus). It is also known as single leaf vitex, vitex cotyledon, white back five-finger tangerine. The front is black, the back is off-white, and there is a layer of fine hair. It is useful for the treatment and prevention of illness for middle-aged and elderly patients with cardiovascular and cerebrovascular obstruction diseases. Its effects are for lowering blood lipids and blood pressure and they also are good prevention and treatment for constipation in the elderly.
Recipes:
Black Fungus Soup 
Ingredients: 
10 grams of black fungus, 1 tael of lean meat, 3 slices of ginger, 5 jujubes, 6 bowls of water 
1. Boil the lean meat first, then drain the water
2 Put all the ingredients in a pot, simmer until there are 2 bowls of soup left, add salt to taste. 
Black Fungus Slimming Soup 
Ingredients: 
3 black fungus, 10 jujubes, 4-5 slices of ginger, lean pork. 
Soak the black fungus until soft 

In 10 bowls of water, add sliced ​​ginger, red dates (with seeds), black fungus, and boil, then add the pork, boil over high heat, then change to medium and low heat for 1 and a half hours, add salt to taste. Drink the next day. Once a day drink 3 days in a row.