Comvita® UMF ® 10+ Manuka Honey (500g)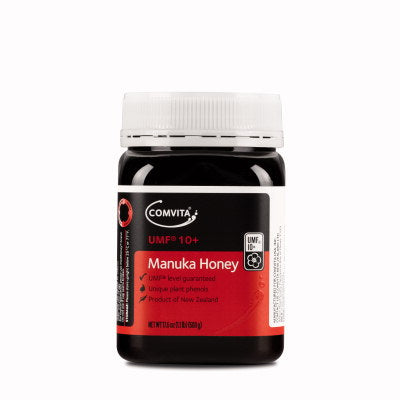 Comvita® UMF ® 10+ Manuka Honey (500g)
Origin:
Product Weight:
Package Type:
In stock
Description:
Comvita® UMF ® 10+ Manuka Honey (500g)
Comvita® UMF® 10+ Manuka Honey is produced in New Zealand and contains unique plant phenols. Comvita® UMF® 10+ Manuka Honey is guaranteed to be at least UMF® 10+ and has been verified by an independent testing laboratory. UMF® stands for 'Unique Manuka Factor, a measure of the unique type of biological activity which is naturally present at varying levels in honey made from the nectar of the Manuka bush (Leptospermum scoparium), native to New Zealand. The mark UMF® is followed by a number that indicates the strength of the UMF® activity in a batch of UMF® Manuka Honey. The higher the UMF® rating, the more potent the product. For example, a jar of UMF® 10+ Manuka Honey has twice the biological activity of UMF® 5+ Manuka Honey.
Manuka is the native New Zealand tea tree. It is renowned and valued for its curative powers. WHF ® brand Manuka Honey is dark amber honey and has a texture and aroma that is quite unique. The taste is slightly bitter with an herbaceous flavor, suitable as a spread, or can be used to enhance your cooking. Alternately, combine it with cider vinegar or lemon juice and warm water for a refreshing and healthy drink.