Comvita Multiflora Honey (1000g)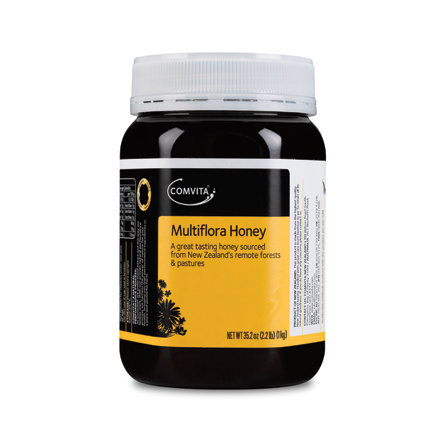 Comvita Multiflora Honey (1000g)
Origin:
Product Weight:
Package Type:
In stock
Description:
康維他百花蜜 (1000g) 
Comvita Multiflora Honey (1000g)
Multiflora Honey is a distinctive blend of pure honey from New Zealand's forests and pastures. Comvita Multiflora Honey is created using our world-renowned 'creamed' honey process to create honey with a beautiful smooth texture and superb spreadability.
Studies suggest that honey might offer antidepressant, anticonvulsant and anti-anxiety benefits. In some studies, honey has been shown to help prevent memory disorders. Wound care. Topical use of medical-grade honey has been shown to promote wound healing, particularly in burns.
(mayoclinic.org)
Honey mainly consists of sugars and water. Apart from sugars, honey also contains several vitamins, especially B complex, and vitamin C, together with a lot of minerals. Some of the vitamins found in honey include ascorbic acid, pantothenic acid, niacin, and riboflavin; while minerals such as calcium, copper, iron, magnesium, manganese, phosphorus, potassium, and zinc are also present. Honey has been used for its healing, nutritional and therapeutic properties since ancient times. Its antibacterial potentials even against multi-drug resistant bacteria, such as Staphylococcus aureus, Pseudomonas aeruginosa, and Acinetobacterbaumanni have been proved.
Honey is well known for its anti-inflammatory and antioxidant capacities, which may be useful for the prevention of chronic inflammatory processes like atherosclerosis, diabetes mellitus, and cardiovascular diseases. 
https://www.longdom.org/open-access/honey-and-its-anti-inflammatory-anti-bacterial-and-anti-oxidant-2327-5146.1000132.pdf