Singlin Yin Qiao Jie Du Pian (120 Tabs)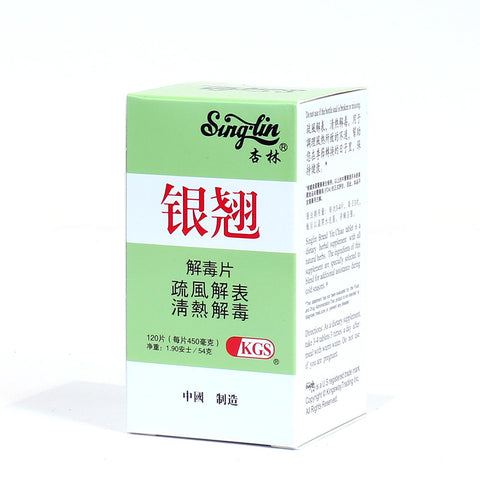 Singlin Yin Qiao Jie Du Pian (120 Tabs)
Origin: China
Product Weight: 30g
Package Type: Box
In stock
Description:
杏林 银翘解毒片 YINChiao Tablet(120粒)
Dietary Supplement For cold seasons
疏风解表,清热解毒,用于调理风热所致的不适,帮助您在季节转换的日子里,保持健康。

It relieves wind, clears away heat, and detoxifies, it is used to regulate the discomfort caused by wind-heat and helps you stay healthy on the days when the seasons change.
服法和用量:每日3次,每次3-4粒。
成分:金银花,连翘,板蓝根,淡竹叶,薄荷,牛蒡子
Single Brand Yin Chiao tablet is a dietary herbal supplement with all-natural herbs.
Directions: Ad a dietary supplement, take 3-4 capsules 3 times a day.
Supplement Facts: Honeysuckle, Forsythia, Isatidis, Lophatherum, Mint, Burdock Seed
*根據美國醫藥衛生條例,以上的中醫藥理論並未經美國食品和醫藥局FDA的正式評估,因此本品不宜作藥用註解。
*This statement has not been evaluated by the Food and Drug Administration. This product is not intended to diagnose, treat, cure or prevent any disease.