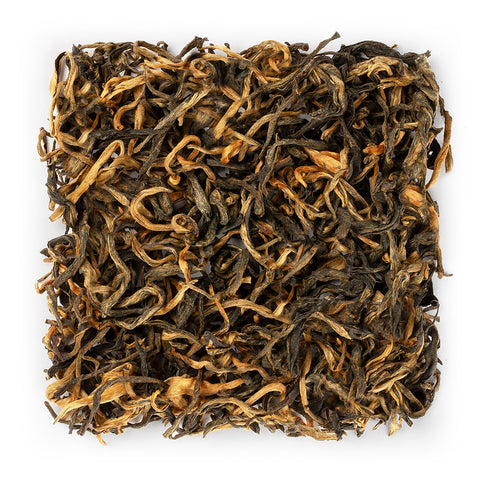 Golden Honey Aroma #1218
Origin:
Product Weight:
Package Type:
In stock
Description:
品牌 Brand:
永合豐 雀石茗茶WHF Twin Birds
产地 Origin:
中国云南 China Yunnan
品名 Name:
雲南金芽紅茶  Yunnan Golden Honey Aroma
等级 Level:

一级 Premium

分类 Sort:
红茶 Black Tea
Caffeine Level:
☆

☆

干茶
Body:

条索均匀,色泽乌润,香气馥郁




Even strands, lustrous color, and a rich aroma.



茶汤
Liquor:

甘甜如蜜 花果交融 浓稠多汁




As sweet as honey. 

A fusion of flowers and fruits. Thick and juicy.


储存方法
Storage:
常温、阴凉、干燥、可长期保存
Store in airtight, opaque packaging; in cool, dry place
金蜜香是一款珍贵的红茶,产自云南思茅宁洱地区,在三月中旬精心采摘。这个品种有着悠久的历史,被亲切地称为"老号",几十年来一直由当地家庭传承种植。它的历史根深蒂固,可能接近于纯正的阿萨姆茶(assamica)。
这款茶具有浓郁的甜味,散发着蜂蜜、晒干的樱桃和兰花的香气。品饮时,你会感受到茶汤的浓稠多汁,伴随着微妙的巧克力麦芽风味,而所有这些都包裹在持久的粘稠口感中。而你的嗅觉也会在这次茶香之旅中得到满足,因为金蜜香的香气实在是令人陶醉。蜂蜜和干果的特色应接不暇,这款茶名副其实,确实如蜜一般甜美!
这种美味的红茶来自于云南思茅宁洱地区,生长海拔位于1300-1350米之间。采摘时,一片茶叶只摘下一个嫩芽,确保了茶叶的品质和独特风味。金蜜香红茶绝对是一种愉悦感官的茶,让人陶醉其中,唤醒味觉的享受!
Golden Honey Fragrance is a precious black tea originating from the Ning'er area of Simao, Yunnan. Carefully harvested in mid-March, this tea is a testament to its ancient roots, often affectionately referred to as the "old type." It has been cultivated by local families for several decades, with its lineage possibly tracing back to pure assamica tea varietals.
This tea exudes a rich sweetness and carries the flavors of honey, dried cherries, and orchids. When sipped, you'll experience a thick and juicy tea infusion with subtle notes of chocolate malt, all enveloped in a long-lasting, velvety texture. Your sense of smell won't be left out of the enjoyment either, as the fragrance of this tea is undeniably strong. The characteristics of honey and dried fruits are abundant, living up to its name, Golden Honey Fragrance!
This exquisite tea hails from the Ning'er area of Simao, Yunnan, at elevations ranging from 1300 to 1350 meters. During harvesting, only one bud is plucked with one leaf, ensuring the quality and unique flavors of the tea leaves. Golden Honey Fragrance black tea is truly a delightful sensory experience that will captivate your senses and awaken your palate!