TRT Niu Huang Jie Du Pian/Heat Cleanse Combo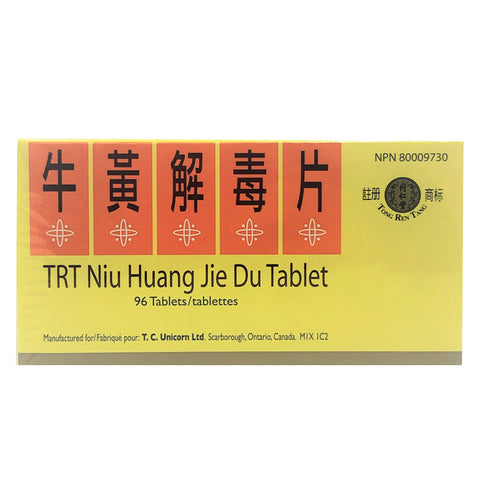 TRT Niu Huang Jie Du Pian/Heat Cleanse Combo
Origin: China
Product Weight:
Package Type:
Out of Stock
Description:
北京 同仁堂 牛黄解毒片(96片)
Description
Made from the highest quality of natural herbs, this popular supplement is formulated to support the health of the inner ear mouth, teeth, throat, salivary glands, as well as gastrointestinal and circulatory systems.
Packaging
96 tabs (12 vials of 8)
Suggested Use
As herbal supplement, take 2 tabs at a time, twice daily.
Ingredients
Honeysuckle Flower, Forsythia Fruit, Fructus Gardeniae, Siler Root, Cnidium Root, Licorice Root, Inula Flower, Mint Leaf, Rhubarb Root, Chrysanthemum Flower, Gypsum, Platycodon Root, Schizonepeta Leaf, Angelica Root, Seashore Vitex Seed.
About Tong Ren Tang
Tong Ren Tang (also known as Tongrentang or Tong Ren Tang) was founded in 1669 and had been designated to provide remedies to the imperial palace of the Qing Dynasty for nearly 200 years. Tong Ren Tang's commandment: no manpower shall be spared, no matter how complicated the procedures of production are; and no material shall be reduced, no matter how much the cost is. The plan has established the strategic goals of the company - "With modern TCM at the core, developing the industry of health and becoming an internationally famous modern TCM group".
Safety
Do not use if pregnant or nursing. Keep out of reach of children. Please consult your health care provider if currently under care or treatment. Do not exceed recommended serving. See product packaging for additional safety information.
Disclaimer
Individual results may vary. This product is not intended to diagnose, treat, cure or prevent any disease. The statements on this website and all affiliates have not been evaluated by the FDA. Advice on treatment or care of an individual patient should be obtained through consultation with a trained health care practitioner.
性状
本品为素片、糖衣片或薄膜衣片、素片或包衣片除去包衣后显棕黄色;有冰片香气,味微苦、辛。
组成
人工牛黄、雄黄、石膏、大黄、黄芩、桔梗、冰片、甘草。
主要功效
清热解毒。
适用病症
火热内盛,咽喉肿痛,牙龈肿痛,口舌生疮,目赤肿痛。
用法用量
口服。一次3片,一日2次~3次。
药性分析
方中牛黄味苦气凉,入肝、心经,功善清热凉心解毒,以之为主药。生石膏味辛能散,气大寒可清热,清热泻火,除烦止渴;黄芩味苦气寒,清热燥湿,泻火解毒;大黄苦寒沉降,清热泻火,泻下通便,共为辅药。雄黄、冰片清热解毒,消肿止痛;桔梗味苦辛,入肺经,宣肺利咽,共为佐药。甘草味甘性平,调和诸药,为使药。诸药合用,共奏清热解毒泻火之效。
不良反应
尚不明确。
药品禁忌
孕妇禁用。
注意事项
本品不宜久服。