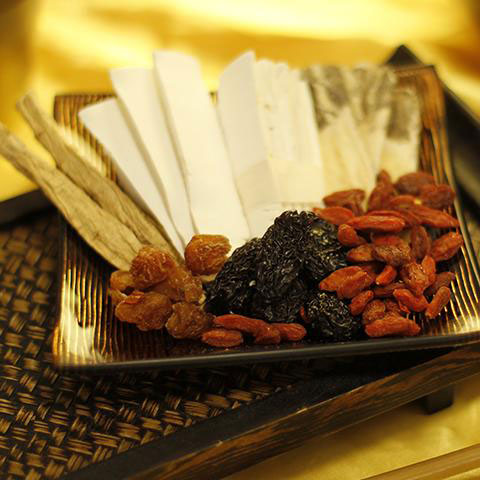 燉品湯料
Origin: China
Product Weight: 4 OZ
Package Type: Bag
In stock
Description:
炖品汤料
Delicious Chicken Herbal Soup
配料:元肉、枸杞、黑棗、黨參、北芪、淮山。
補氣養血,可用於煲肉或雞湯。
Delicious Chicken Herbal Soup
燉品湯料 (Dun Pin Herbal Soup):
Effect:
This soup has the added advantage of tasty and nutritious Chinese herbs to enhance blood, energy, and immunity. 
Ingredients: 
Longan fruit, Wolfberry fruit/goji berry, Jujube Date, Codonopsis, Astragalus, Dioscoreae, white yam

According to modern research, fresh longan has very high nutritional value containing carbohydrate, proteins, amino acids, vitamins B, C, calcium, phosphorus, iron, tartaric acid, adenine, etc. Modern pharmacological research shows that longan's Vitamin P is especially helpful to the elderly since it is able to protect blood vessels, prevents hardening of the arteries and confirms an claim made by China's first pharmacy monograph Shen Nong's Herbal Classic that longan can help weight loss and keep people young.

Wolfberry fruit, goji berry is praised as a rejuvenating tonic. Among its proven benefits are that goji protects the eyes, provides immune system support, protects against cancer and liver damage, promotes healthy skin, stabilizes blood sugar and improves depression, anxiety, and sleep.

According to research, red jujube date enhances muscle strength, eliminates fatigue, dilates blood vessels, increases myocardial contractility, improves myocardial nutrition, and prevents and treats cardiovascular diseases. It tonifies deficiency and invigorates Qi, nourishes the blood and soothes the nerves, and strengthens the spleen and stomach.

The Chinese dried white yam is used in Delicious Chicken Herbal Soup to tone digestion, especially symptoms known as weak spleen Qi such as general weakness, poor appetite, loose bowels. Chinese yam nourishes the lungs and replenishes lung qi to treat shortness of breath, general weakness, and a feeble voice.

Used in combination, codonopsis and astragalus lift up and enhance defensive energy against colds, flu, allergies. Astragalus increases T and B cells to prevent chronic illness and fatigue.
Suggestions:
Quickly blanch the ingredients and add them to cook with chicken or vegetable soup. 

Please consult your physician before using this product.