YuLin Lian Qiao Pai Du Qing Wen Capsules (60 Capsules)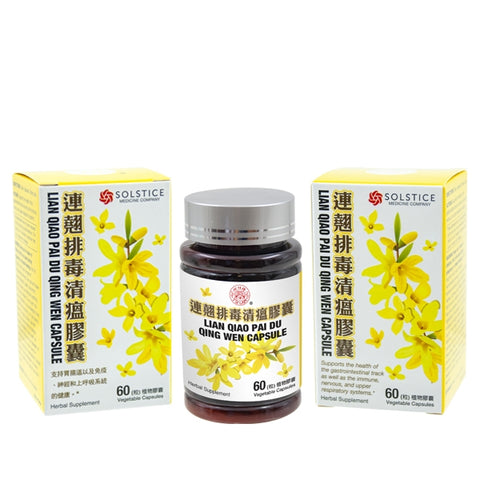 YuLin Lian Qiao Pai Du Qing Wen Capsules (60 Capsules)
Origin: China
Product Weight:
Package Type: Box
Out of Stock
Description:
榆林牌 连翘排毒清瘟胶囊 60粒
功效:支持胃肠道以及免疫、神经和上呼吸系统的健康。
Lian Qiao Pai Du Qing Wen Granules 
Supports the health of the gastrointestinal tract as well as the immune, nervous, and upper respiratory systems. This statement has not been evaluated by the Food and Drug Administration. This product is not intended to diagnose, treat, cure, or prevent any disease. 
How to Use
Mix contents of 1 packet with boiled water. Take 1 packet orally, two times a day. Read the WARNINGS before use. Children under 12 years old: Do not use. 
Product of 
China 
Warnings
Lian Qiao Pai Du Qing Wen Granules is not intended to mitigate, prevent, treat, diagnose, or cure COVID-19.
INGREDIENTS
Forsythia fruit, Honeysuckle flower, Apricot seed, Calcium Sulfate, Isatis root, Male Fern root, Houttuynia aerial parts, Patchouli aerial parts, Chinese Rhubarb root, Rhodiola aerial parts, Peppermint leaves, Licorice root, Siler root, Coptis root, Chinese Skullcap root, and Flat-Stem Milkvetch root.
Other Ingredients: Hydroxypropyl cellulose and cornstarch.
Keep out of reach of children. Not to be used during pregnancy or breast-feeding. Not for long term use or use in excess of recommended servings. Over use can cause excessive salivation, gastric discomfort, nausea, dizziness, and difficulty breathing. Not for use by children. Do not use if you have liver problems, if you are allergic to any ingredients in this product, or if you have a tendency to cough up blood. Use with caution if you have a history of allergic reactions, are elderly in poor health, an individual with serious chronic diseases, or those taking lithium or other over-the-counter or prescription medications. Consult physician if taking medication, or have a medical condition. Stop using if you don't feel well.