Kam Wo Char/Gan He Cha (6.8g*10)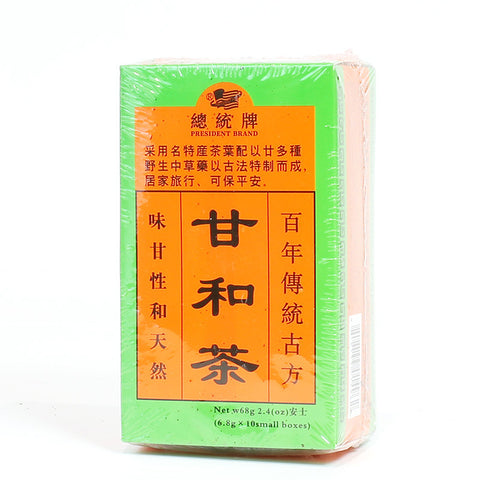 Kam Wo Char/Gan He Cha (6.8g*10)
Origin: China
Product Weight: 6.8 g*10
Package Type: Box
In stock
Description:
总统牌 甘和茶  凉茶 Kam Wo Char
俗称"盒仔茶",是佛山著名的传统中成药,始创于清光绪十八年(1892年),自出产距今已经有一百多年历史,为凉茶类中成药,可以疏风清热,解暑消食,生津止渴。用于感冒发热,头痛,骨节疼痛,食滞饱胀,腹痛吐泻。
【成 份】青蒿、香薷、薄荷、葛根、前胡、黄芩、连翘、桑叶、水翁花、栀子、粉萆薢、苍术、陈皮、紫苏梗、甘草、牡荆叶(嫩叶)、千里光(嫩叶)、玉叶金花。
【性 状】本品为黑褐色的颗粒状物;气香,茶水 味甘、微凉。
【用法用量】开水泡服或煎服,一次2~3袋,一日1~2次。风寒感冒者另加生姜两片,葱头两个,紫苏叶3g同煎。
注意事项
1.忌烟、酒及辛辣、生冷、油腻食物。
2.不宜在服药期间同时服用滋补性中成药。
3.高血压、心脏病、肝病、糖尿病、肾病等慢性病严重者慎用。
4.服药三天后症状无改善,或症状加重,或出现新的严重症状如胸闷、心悸等应立即停药,并去医院就诊。
5.小儿、年老体弱者、孕妇慎用。
6.对本品过敏者禁用,过敏体质者慎用。
7.药品性状发生改变时禁止服用。
8.儿童必须在成人监护下使用。
9.请将此药品放在儿童不能接触的地方。
Kam Wo Char/Gan He Cha (6.8g*10)
From the manufacturer: 
Commonly known as "Hezi Tea", it is a famous traditional Chinese medicine in Foshan. It was founded in the 18th year of Guangxu in the Qing Dynasty (1892). It has a history of more than 100 years since it was produced. It is used to relieve heat [anti-inflammatory] and eliminate food stagnation, produce body fluids, and quench thirst. It has been used to cure cold and fever, headache, joint pain, food stagnation and fullness, abdominal pain, vomiting, and diarrhea. 
Ingredients: 
Artemisia annua, Elsholtzia, Mint, Pueraria lobata, Peucedanum, Scutellaria, Forsythia, Mulberry Leaf, Water Weng Flower, Gardenia, Fenji, Atractylodes, Tangerine Peel, Perilla Stem, Licorice, Vitex Leaf (tender leaves), Qianliguang (tender leaves), Yuye Jinhua. 
Properties:
This product is a black-brown colored granular natural herbal; it has a fragrant aroma, and the tea is sweet and slightly cooling. 
Usage and Dosage: Take this with boiled water steeped or decocted, 2 to 3 bags each time, 1 to 2 times a day. For those with cold and chills, add two slices of ginger, two shallots, and 3g of basil leaves.
Precautions 
Avoid smoking, alcohol, and spicy, cold, greasy food. 

It is not advisable to take nourishing proprietary Chinese medicines [tonic herbs] during the medication. 

Use with caution for people with severe chronic diseases such as hypertension, heart disease, liver disease, diabetes, and kidney disease. 

After three days of taking the medicine, if the symptoms have not improved, or the symptoms have become worse, or new serious symptoms such as chest tightness, heart palpitations, etc. it should be stopped immediately and go to the hospital for treatment. 

Use with caution in children, the elderly and the infirm, and pregnant women. 

People who are allergic to this product should not use it. 

It is forbidden to take the medicine when its properties change. 

Children must have adult supervision if using this product. 

Please keep this medicine out of reach of children.