Fu Brand E Jiao/ Colla Corii Asini (250g)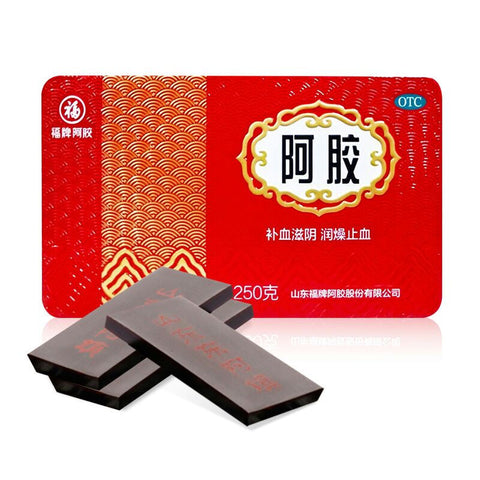 Fu Brand E Jiao/ Colla Corii Asini (250g)
Origin: China
Product Weight: 250g
Package Type:
In stock
Description:
山东 福牌 阿胶 阿胶片阿胶块250g 


性味
甘,平。
经脉
入肺经、肝经、肾经。
功效
滋阴润燥,补血,止血,安胎。治血虚,虚劳咳嗽,吐血,衄血、便血,妇女月经不调,崩中,胎漏。
用法用量
内服:烊化兑服,5~10g;炒阿胶可入汤剂或丸、散。滋阴补血多生用,清肺化痰蛤粉炒,止血蒲黄炒。
注意禁忌
脾胃虚弱、消化不良者慎服。
①《本草经集注》:得火良,畏大黄。
②《药性论》:薯蓣为之使。
③《本草经疏》:性粘腻,胃弱作呕吐者勿服;脾胃虚,食不消者亦忌之。
④《本草汇言》:胃弱呕吐有寒痰留饮者当忌之。
⑤《本草备要》:泻者忌用。
食疗方
1. 阿胶洋参散

阿胶30g,西洋参30g。将阿胶、西洋参研成细末,混合均匀。每服3g,1日2次,温开水送服。
功效:补气养阴,润肺止咳。主治气阴两虚所致的久咳少痰、咽干口燥、气短自汗、舌红少苔等。
2. 阿胶芪枣汤
阿胶10g,黄芪20g,大枣10枚.将黄芪、大枣洗净,加入清水,浸渍2小时,煎煮60分钟,滤去药渣。将阿胶放入药汁内,稍沸烊化。每日1剂,分2次温服。
功效:补气生血,滋阴养血。主治气血亏虚所致的面色无华、少气乏力、面容憔悴、舌质淡等。 
 E Jiao/ Colla Corii Asini (250g)
Colla corii asini (CCA, E'jiao) is a gelatin-like traditional Chinese medicine refined from donkey hide and has been widely used in clinical anti-anemic therapy for more than 2000 years. In the last decade, many studies had addressed the effect of CCA on anemia using modern pharmacological approaches. The results indicated that CCA contains collagen protein, glycogen and a variety of trace elements, a variety of amino acids, etc. the main components of CCA can promote hematopoiesis [blood production] by a number of mechanisms which eventually increase the peripheral erythrocyte counts and Hb concentration. Therefore, the hematopoietic effects of CCA might also contribute to the treatment of thalassemia [abnormal blood production] https://clinicaltrials.gov/ct2/show/NCT03374111
This traditional Chinese medicine is sweet in flavor and neutral in effect (neither very heating nor cooling). It enters the Liver, Lung, and Kidney meridians. It chief functions include enriching blood, hemostasis, nourishing Yin, and moistening dryness. [Some Chinese women cook it added to a broth to replenish blood supply following heavy menstruation.]
(Chineseherbshealing.com)
In China ejiao is a traditional medicine used for different types of illnesses. ... The hematopoietic effect of colla corii asini (ejiao) may benefit cancer patients suffering from myelosuppression due to radiotherapy or chemotherapy. (Wikipedia.org) 
From the manufacturer: 
The taste is sweet and mild. It enters the Lung, Liver, and Kidney meridians. Effects: It nourishes yin and moisturizes dryness, nourishes blood, hemostasis, and helps prevent miscarriage. It has been used to cure blood deficiency, asthenia, cough, vomiting blood, excess bleeding, blood in the stool, irregular menstruation, collapse, "fetal leakage" [bleeding during pregnancy] 
Dosage: Oral administration: each time: 5~10g; fried E jiao can be made into decoction, pills, or powder. For nourishing yin and nourishing blood, stir-fry with clam powder for clearing lungs and phlegm.
Cautions:
People with weak spleen and stomach and indigestion should take it with caution.      
Diet therapy  
Ejiao Ginseng Powder  
Ingredients:
Ejiao 30g, American ginseng 30g. 
Make Ejiao and American ginseng into powder and mix them evenly.
Each serving is 3g, twice a day, with warm water. 
Efficacy: Use this to nourish qi and nourish yin, moisten the lungs and relieve cough. Indications for chronic cough and less phlegm, dry throat, dry mouth, shortness of breath and spontaneous sweating, red tongue, and less coating caused by the deficiency of both qi and yin.  
Ejiao Jujube Soup  
Ingredient:
10g Ejiao, 20g astragalus, 10 jujubes. 
Wash the astragalus and jujube, add water, soak for 2 hours, decoct for 60 minutes, and filter out the medicine residue. Put ejiao in the concoction and let it boil. Take 1 dose a day, divided into 2 warm doses. 
Efficacy: nourishes qi, blood, and yin. Indications for the sallow complexion, lack of energy, gaunt complexion, and pale tongue caused by the deficiency of qi and blood.