Radish Seed/ Lai Fu Zi 16oz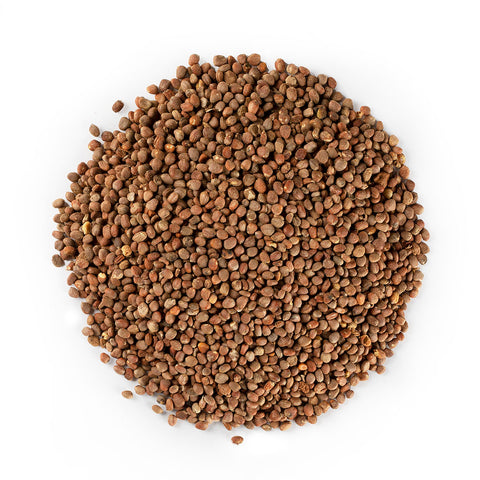 Radish Seed/ Lai Fu Zi 16oz
Origin: China
Product Weight: 16oz
Package Type: BAG
In stock
Description:
莱菔子 16oz
萝卜子 芦菔子 萝卜种 杜萝卜子 炒莱菔子 炒萝卜子 萝白子
性味
味辛;甘;性平
经脉
脾经;胃经;肺经;大肠经
功效
为十字花科植物莱菔的成熟种子。 下气定喘,消食化痰。治咳嗽痰喘,食积气滞,胸闷腹胀,下痢后重。
用法用量
内服,煎汤5~10g,或入丸、散。外用研末调敷。
气虚及无食积、痰滞者慎用;脾虚而无食积者,不宜与人参同用,以免降低人参补气效力。
Radish Seed/ Lai Fu Zi 16oz
Radish seed pods can be eaten raw in salads or quickly sautéed for a stir fry. Another way of preparing the pods is pickled.
The taste is pungent/sweet; it is neutral. It enters the Meridians of Spleen, Stomach, Lung Channel; Large Intestine Channel.
It is the mature seed of Brassica rapa in the cruciferous family. It is used to send lung qi downward to relieve asthma, eliminate food stagnation and resolve phlegm. It has been used to cure cough, phlegm, and asthma, stagnation of qi due to poor food digestion, chest tightness and abdominal distension, diarrhea, and excess weight. 
Dosage Take orally, decoction 5~10g, or pill or powder. The powder is adjusted and applied for external use. 
Cautions:
It should be used with caution for those with qi deficiency, no food accumulation, and phlegm stagnation; for those with spleen deficiency and no food accumulation. [Avoid use with weakness, shortness of breath, and diarrhea due to weakness] it is not advisable to use it together with ginseng, so as not to reduce the effect of ginseng for nourishing Qi.