Choi Heong Yuen Bakery Liquorice Lemon 180g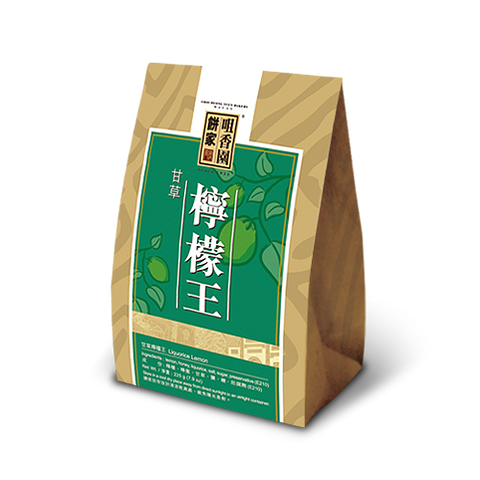 Choi Heong Yuen Bakery Liquorice Lemon 180g
Origin: Macau, China
Product Weight: 180g/6.3oz
Package Type:
Out of Stock
Description:
咀香园 澳门特产 甘草 柠檬王 180g
成分:柠檬,甘草粉,蜂蜜,盐,糖,甜味剂,酸味剂,防腐剂
夏天又悶又熱,淨係想狂飲水止渴,仲邊有胃口食好嘢?!依啲時候真係要澳門咀香園嘅甘草檸檬王為你嘅胃口開路,佢味道酸酸甜甜,即刻刺激你味蕾~幫你解渴之餘,嗒多兩嗒更令你瞬間開胃
,等美食可以全面進場!
Choi Heong Yuen Bakery Liquorice Lemon 180g
Tsui Fragrant Garden Macau Specialty Licorice Lemon King 
Ingredients: lemon, licorice powder, honey, salt, sugar, sweetener, sour agent, preservative 
Summer is stuffy and hot. Licorice Lemon King from Macau Tsui Xiangyuan quenches thirst and improves appetite. It tastes sour and sweet which immediately stimulates our taste buds.