Lotus Seeds Dried/Lian Zi (16oz/Bag)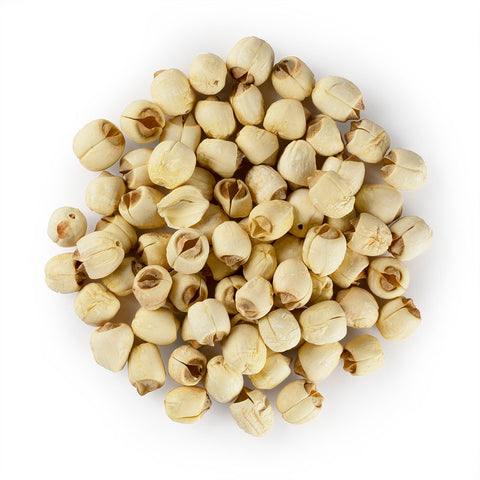 Lotus Seeds Dried/Lian Zi (16oz/Bag)
Origin: Hunan,China
Product Weight: 16 oz
Package Type: Bag
In stock
Description:
特级 去芯 白莲子(16oz/包)
性味
甘;涩;平
功效
为睡莲科植物莲的成熟种子。主治脾虚久泻久痢,肾虚遗精,滑泄,小便不禁,妇人崩漏带下,心神不宁,惊悸,不眠。
经脉
心经;脾经;肾经;胃经;肝经;膀胱经
主治
补脾止泻,益肾固精,养心安神。主脾虚久泻久痢,肾虚遗精,滑泄,小便不禁,妇人崩漏带下,心神不宁,惊悸,不眠。
①《本经》:主补中、养神、益气力。
②盂诜:主五脏不足,伤中气绝,利益十二经脉血气。
③《本草拾遗》:令发黑,不老。
④《食医心镜》:止渴,去热。
⑤《日华子本草》:益气,止渴,助心,止痢。治腰痛,泄精。
⑥《日用本草》:止烦渴,治泻痢,止白浊。
⑦《滇南本草》:清心解热。
⑧《纲目》:交心肾,厚肠胃,固精气,强筋骨,补虚损,利耳目,除寒湿,止脾泄久痢,赤白浊,女人带下崩中诸血病。
⑨《本草备要》:清心除烦,开胃进食,专治噤口痢、淋浊诸证。
⑩《随息居饮食谱》:镇逆止呕,固下焦,愈二便不禁。
用法用量
内服:煎汤,6~15g;或入丸、散。
注意禁忌
中满痞胀及大便燥结者,忌服。
食用方法:
银耳莲子羹
原料;莲子50克,银耳30克,冰糖100克。
做法:将莲子、银耳分别用清水泡发,捞起。把莲子、银耳、冰糖同方入碗中,加清水适量,入蒸笼用武火蒸1小时即可。
莲子猪肚
猪肚1个,水发莲子40枚,香油,食盐,葱,生姜,蒜各适量。将猪肚洗净,内装水发莲子(去心),用线缝合,放入锅内,加清水,炖熟透;捞出晾凉,将猪肚切成细丝,同莲子一起放入盘中。将香油、食盐、葱、生姜、蒜等调料与猪肚丝、莲子拌匀即成。可单服,亦可佐餐。
功效:健脾益胃,补虚益气。适用于食少、消瘦、泄泻、水肿等病症。
Lotus Seeds Dried/Lian Zi (16oz/bag)
Dried lotus seed, the mature seed of the water lily, tastes sweet and is astringent in quality which means it may be used to dry edema or tone under-functioning organs. Indications include chronic spleen deficiency, chronic diarrhea, kidney deficiency with nocturnal emission, urinary incontinence, spermatorrhea, leukorrhea, restlessness, panic, and chronic insomnia. It nourishes and calms the mind. Lotus seed enters the acupuncture meridians of the Heart, Spleen, Kidney, Stomach, Liver and Bladder Channels.
Traditional uses: 
① "The Book of Classics": Master Buzhong, Yangshen, Yiqi strength. (enhances longevity and intelligence.)    
② Xu Xuan: Insufficiency of the main five internal organs, increases wound healing, benefits blood circulation of the twelve meridians.     
③ "Compendium of Materia Medica": dry mouth, dark urine, and wet dreams
④ "Food Doctor Heart Mirror": quenches thirst and removes heat.     
⑤ "Rihuazi Materia Medica": Yi Qi (mental clarity), quenches thirst, helps heart, stops dysentery. Cures low back pain, spermatorrhea     
⑥"Daily Materia Medica": stops polydipsia, cures diarrhea, stops turbid urine.    
 ⑦ "Southern Yunnan Materia Medica": Qingxinjiepyi. (reduces thick yellow leucorrhea)    
⑧ "Outline": Stomach and kidneys tonic, stomach muscle tone, strong muscles and bones, tonic for deficiency, improves hearing, reduces internal cold and dampness, stops chronic diarrhea, vaginal discharge, and collapse.     
⑨ "Compendium of Materia Medica": clearing the heart and reducing irritability, increases appetite, reduces diarrhea and cloudy urine.     
⑩ "Dietary Chart of Suiyiju": Relieves nausea and stops vomiting.
Dosage  Oral: Jiantang, 6~15g; or pill and powder. 
Contra-indications:
Persons with chronic digestive bloating and dry stools (constipation) should not use lotus seed. 
Lotus Seed Recipes: 
Tremella Lotus Seed Soup 
Tremella, aka White Fungus, is cooling, moistening and nourishing. Lotus seed is astringent and improves many aspects of energy and health. 
Ingredients: 
Lotus seeds 50 grams, white fungus 30 grams, rock sugar 100 grams. 
Soak the lotus seeds and white fungus in water and rinse. Place the lotus seeds, white fungus and rock sugar into a bowl, add the appropriate amount of water, steam it in a steamer for 1 hour. 
Lotus Seed Pork Belly 
Used for spleen and stomach deficiency and weak qi. It is suitable for diseases such as lack of appetite, weight loss, chronic diarrhea and edema.
Ingredients: 
1 pork belly, 40 lotus seeds, sesame oil, salt, green onion(scallion), fresh ginger, and raw garlic. 
Wash the pork belly with water. To stuff it with lotus seed: Add lotus seeds on top and fasten the meat around the seeds with thread. Put this into a pot, add water, and stew it thoroughly. When done, remove and let it cool. Cut the pork belly into slices and put them in a dish together with lotus seeds. 
The sauce: Mix sesame oil, salt, sliced green onion, fresh ginger, garlic and other seasonings with pork belly shreds and lotus seeds. It can be served alone or as a side dish with meals.